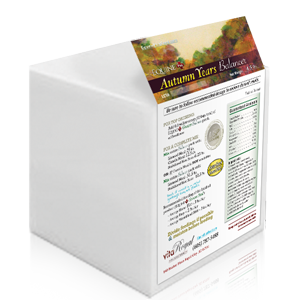 Vitamin, mineral, probiotic supplement for older horses.
---

Autumn Years
®

Balancer

Autumn Years® Balancer is designed to balance your locally sourced Equine Plus® Feed Base ingredients. It contains the vitamins, minerals, probiotics and natural anti inflammatory ingredients which, when added to these specific base feed ingredients in the correct ratio, makes your feed precisely balanced for the problems of the older horse.

This feed system is perfect for older horses because it is very digestible, Even when horses have very bad (or no) teeth, they can eat Equine Plus® just fine. It can be mixed with chopped hay or soaked hay cubes for horses with tooth problems to make a complete feed.

Suggested Retail:
1 (4.5 lbs. pack) - $62.50/pack Add to Cart
1 (25 lbs. pack) - $340.75/pack Add to Cart
---
above prices are subject to change
---
Feed Base

+ Balancer
=

Feed
Equine Plus® Balancers are vitamin, mineral, probiotic packets which have a higher ratio of magnesium to calcium and trace minerals - specifically for balancing the high phosphorus and high protein in our Equine Plus® Feed Base.
Balancers allow you to save money by sourcing the 2 or 3 Equine Plus® Feed Base ingredients locally and mixing the feed yourself. The shipping costs for Balancer Packs is cheaper than for 50 lbs. bags of feed. The variety of available Balancers makes customizing feed programs for every horse in your barn simple and easy.
---
(swipe left & right)