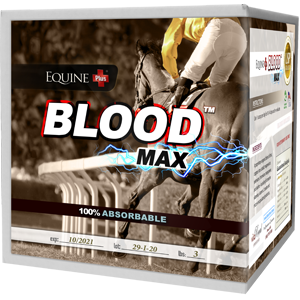 3 lbs. (box) - $135.00 Add to Cart
6 lbs. (box) - $240.00 Add to Cart
12 lbs. (box) - $437.50 Add to Cart
25 lbs. (box or moisture resistant bucket) - $662.25 Add to Cart
Guaranteed Analysis
per Scoop (2 tbsp)

| | |
| --- | --- |
| | |
| Iron (Fe) | 1,200 mg |
| Copper (Cu) | 355 mg |
| Selenium (Se) | 175 mg |
| Cobalt (Co) | 52 mg |
| Vitamin E | 500 IU |
| B Complex blend (vitamins B1, B2, B3, B5, B6, B9 and B12 | 485 mg |
| Micro-encapsulated probiotics blend | 3,260 mg |
| Sodium (Na) | <1% |
The Most Complete Natural Blood Builder in the World
---
Max Potency Blood Builder for Horses
Above average red blood cell counts are essential for horse racing performance.
Blood Max™ is made with amino acid chelated iron, zinc, copper, trace minerals, B complex vitamins and micro-encapsulated probiotics. Be sure to compare what you're currently using to how concentrated and potent this formula is.
Research shows that amino acid chelated minerals (like iron, copper and zinc) are the safest, least toxic and most absorbable supplement forms. If a horse responds well to an iron supplement, then Iron Amino Acid Chelate is the best choice - as adverse reactions to inorganic forms of iron are common.
Blood Max™ also contains:
High amounts of Copper and Zinc to help hard working horses process, maximize and unlock what added Iron can do for the blood.


A complete range of B complex vitamins to support the minerals and ensure that Blood Max™ leaves nothing out which could aid the body in building healthy red blood cells.


Micro-Encapsulated Live Probiotics are protected from stomach acid long enough to reach the gut and then activate to help ensure absorption of the most important ingredients. Research also shows probiotics can also be the key to brain health (or getting a horse's head put back on straight).


Water Soluble Vitamin E which exceeds industry standards by being significantly more absorbable than the cheaper oil-based forms - as it requires no digestion and does not stress the liver.


Amino acids which function as building blocks for muscles and as an energy source for skeletal muscles.
Iron is just one building block to red blood cell production in the body. Many nutrients play a vital role and this unique formula supplies everything. We only use the purest and most absorbable human-grade athletic supplement forms of nutrients because they get the best results in horses. Amino acid chelated (or 'proteinated') minerals are scientifically recognized to be the safest and most absorbable, making this formula hi-tech and still 100% natural.
Use 1 scoop per day for 10 to 14 days and then re-evaluate performance and/or blood cell count. Once a horse shows a good red blood cell count, you can boost and/or maintain with 2 scoops of Blood Max™ as a post race therapy.
Because cobalt testing has become a new standard, Blood Max™ only includes minimal amounts of cobalt amino acid chelate which is more easily used and leaves the system faster than all the other forms of cobalt.
For nearly 20 years, Blood Max™ was only available as a private custom mix, but it's been such a valuable therapy product that we've made it available to all racing professionals. You can order online, give us a call or contact us below if you have any questions.
The Truth About Contamination in Equine Nutritionals
The above video shows two different samples of magnesium oxide under magnification. USP Grade (bottom-right) vs. Feed Grade (top-left). The only cause for the brown coloration is impurities including heavy metals - the pure stuff is white. The same goes for Feed Grade salt blocks. Only buy the white ones!
Ingredients:
A proprietary organic blend of zinc, copper, iron, cobalt, magnesium, selenium, chromium, manganese, and organic iodine - including B complex vitamins, vitamin E, borate and micro-encapsulated probiotics (lactobacillus acidophilus, lactobacillus casei, bifidobacterium thermophilum and enteroccocus faecium)
Suggested Retail:
3 lbs. (box) - $135.00 Add to Cart
6 lbs. (box) - $240.00 Add to Cart
12 lbs. (box) - $437.50 Add to Cart
25 lbs. (box or moisture resistant bucket) - $662.25 Add to Cart

---
above prices are subject to change
---
More Situational Supplements
---
All of our situational supplements are designed to work quickly and safely; many are U.S. Patented. We use only USP Grade and amino acid chelated minerals. Micro-encapsulated probiotics ensure good digestion and fortify the immune system. We do not use fillers or binders, and all of our formulas contain 100% active ingredients.
(swipe left & right)