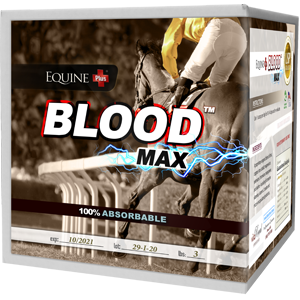 3 lbs. (box) - $135.00 Add to Cart
6 lbs. (box) - $240.00 Add to Cart
12 lbs. (box) - $437.50 Add to Cart
25 lbs. (box or moisture resistant bucket) - $662.25 Add to Cart
For Racing & Other Horses in Competition or Recovery
---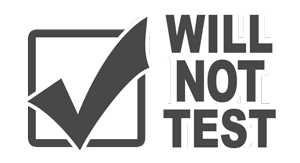 Building the Blood
Healthy red blood cell counts are essential for horse racing performance. Most racing professionals know that vitamins and minerals (such as Iron & B Complex) are very important. BLOOD MAX™ supplies everything.
Iron is just one building block to red blood cell production in the body. Many vitamins and minerals play a vital role. BLOOD MAX™ includes a unique range of vitamins and minerals to help build blood quickly.
Includes amino acids which are important building blocks for muscles and an energy source for skeletal muscles.
Get the best results by upgrading the horse to the purest human-grade minerals.
Chelated (or 'proteinated') minerals are the most absorbable minerals known to science, and using only human-grade vitamins, organified and USP Grade minerals, it's hi-tech and 100% natural.
Use 1 scoop per day for 10 to 14 days and then re-evaluate performance and/or blood cell count. Once a horse has a good red blood cell count, you can boost and/or maintain it by using 2 scoops of Blood Max - 3 days before an event and then 2 scoops again 2 days before the event. You can also dose Blood Max as a post race therapy.
For nearly 20 years, Blood Max™ was only available as a private custom mix. It's been such a valuable therapy product that we now make it available to all racing professionals. You can order online, give us a call or contact us below if you have any questions.
The Truth About Contamination in Equine Nutritionals
The above video shows two different samples of magnesium oxide under magnification. USP Grade (bottom-right) vs. Feed Grade (top-left). The only cause for the brown coloration is impurities including heavy metals - the pure stuff is white. The same goes for Feed Grade salt blocks. Only buy the white ones!
Ingredients:
A proprietary organic blend of zinc, copper, iron, cobalt, magnesium, selenium, chromium, manganese, and iodine - including B complex vitamins, vitamin E, borate and micro-encapsulated probiotics (lactobacillus acidophilus, lactobacillus casei, bifidobacterium thermophilum and enteroccocus faecium)
Suggested Retail:
3 lbs. (box) - $135.00 Add to Cart
6 lbs. (box) - $240.00 Add to Cart
12 lbs. (box) - $437.50 Add to Cart
25 lbs. (box or moisture resistant bucket) - $662.25 Add to Cart

---
above prices are subject to change
---
Product Menu
---
(swipe left & right)