---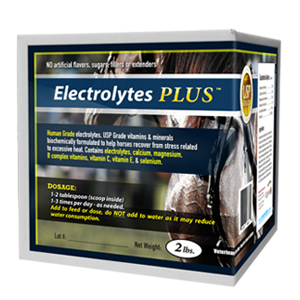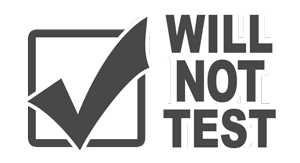 ---
Pure & Complete Electrolytes Supplement
In excessively hot and cold conditions, horses benefit from consistent and adequate electrolyte support.
Salt isn't enough for horses who are competing under stressful conditions where electrolytes are more rapidly being lost through sweat. Electrolyte deficiencies are a well-known cause of tying up syndrome and also muscle cramping in track and endurance athletes.
Clean human grade salt (instead of dirty feed grade), with Pharmaceutical Grade vitamins, amino acid chelated minerals and micro-encapsulated probiotics - all ensure maximum absorption and purity. Added vitamins C, E and B complex vitamins help further support the most stressed biochemical pathways. Our Electrolytes Plus™ for horses is formulated to be the finest on the market.
Add to feed or dose, do not add to water as it may reduce water consumption.
Dosage: Combine 1-2 tbsp with yogurt or Nutrient Buffer®, and dose after strenuous exercise 1-3 times per day.
The Truth About Contamination in Equine Nutritionals
The above video shows two different samples of magnesium oxide under magnification. USP Grade (bottom-right) vs. Feed Grade (top-left). The only cause for the brown coloration is impurities including heavy metals - the pure stuff is white. The same goes for Feed Grade salt blocks. Only buy the white ones!
Ingredients:
Human grade iodized salt, magnesium amino acid chelate, calcium amino acid chelate, potasium amino acid complex, micro-encapsulated probiotic cultures, micro-encapsulated vitamin C USP, water soluble vitamin E, peppermint extract, B-complex vitamins (thiamine HCL USP, riboflavin USP, niacinamide USP, calcium pantothenate USP, pyridoxine HCL USP, folic acid USP, B-12 USP), and selenomethionine.
Suggested Retail:
2 lb. (box) - $33.00 Add to Cart
5 lbs. (box) - $79.75 Add to Cart
25 lbs. (box) - $358.00 Add to Cart
---
above price is subject to change
---
Product Menu
---
(swipe left & right)