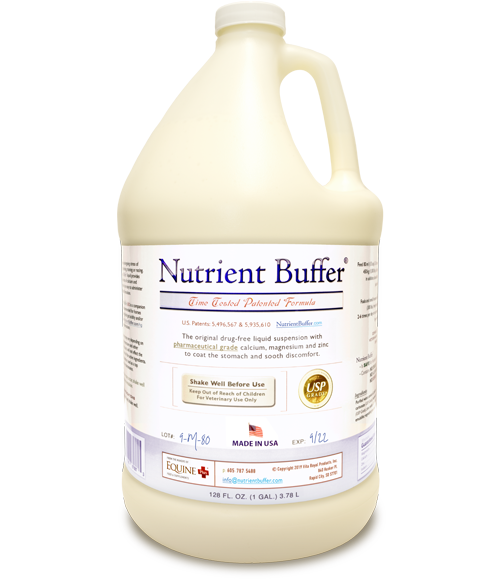 1 (gallon) - $59.75 Add to Cart
12+ (gallons) - $54.25 /gallon Add to Cart
60+ (gallons) - $50.25 /gallon + up to 40% off shipping Add to Cart


Guaranteed Analysis
per Dose (1/3 cup)

| | |
| --- | --- |
| | |
| Calcium (Ca) | 1,021 mg |
| Magnesium (Mg) | 1,245 mg |
| Zinc (Zn) | 35 mg |
| Sodium (Na) | <1% |
NutrientBuffer.com has all the most extensive information on this product.
---
Ulcer Supplement & Colic Remedy
---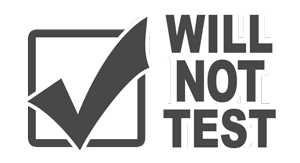 Neutralize Acid
which can lead to

Stomach Ulcers

This unique ratio of minerals in a stabilized emulsion will help neutralize excess acidity that can lead to ulcers. Nutrient Buffer® does not inhibit acid production in the stomach. Stomach acid is necessary in order to ensure proper sterilization, digestion and absorption of food.
Antacid & Alternative Colic Remedy
Nutrient Buffer® is so versatile that it can be used daily for horses in every walk of life. Better than drugs like H₂ Blockers and Proton Pump Inhibitors (PPIs) which the body can build a tolerance to and require higher dosages over time, while Nutrient Buffer® works the same all the time, every time - with the added benefit of helping resolve colic situations when you need it the most.
HORSE RACING
Race horses tend to dump a lot of stomach acid at the break from the gate, Nutrient Buffer® has been one of the most widely used digestive aid buffering supplements for horses prior to stressful conditions. According to many prominent race track veterinarians, it helps horses race better on race day.
STALLING, CONFINEMENT & TRAILERING
Whether your horse is injured or ill and in recovery, ulcers are known to become a problem in stalled and confined horses. Horses are grazers and designed for continuous movement to aid their digestion and well being.
---
H₂ BLOCKERS
Drugs have many shortcomings, and H₂ Blockers have some unique ones. When your horse builds a tolerence after prolonged daily use, you find yourself continually increasing the dosage to achieve the same results - and unflurtunately increase the likelihood of negetive side effects.
PROTON PUMP INHIBITORS
Proton Pump Inhibitors (PPIs) shut down excess acid production in the stomach. Accurate dosing is exceptionally tough to estimate, and excessive use can lead to poor digestion of food and longer term health problems. In fact, even correct dosing is known to reduce magnesium absorption and create magnesium deficienies.

ALL acid inhibitors are very tough on the body. It depletes and prevents absorption of magnesium, contributes to incomplete breakdown and sterilization of food, and malabsorption of the nutrients a horse consumes.

Nutrient Buffer's only effects outside of the stomach is its clean trace minerals and mono-unsaturated fats are just only good for the horse's health.
The Truth About Contamination in Equine Nutritionals
The above video shows two different samples of magnesium oxide under magnification. USP Grade (bottom-right) vs. Feed Grade (top-left). The only cause for the brown coloration is impurities including heavy metals - the pure stuff is white. The same goes for Feed Grade salt blocks. Only buy the white ones!
Ingredients:
A U.S Patented blend of distilled water, canola oil, calcium carbonate USP, magnesium oxide USP, zinc oxide USP, lecithan, vegetable gum, and preservative.
Nutrient Buffer® liquid is for the stomach.
Nutrient Buffer® H/G targets the hind gut.
Together they make a safe, reputable, U.S. Patented complete buffering system for the entire equine digestive tract.
Suggested Retail:
1 (gallon) - $59.75 /gallon Add to Cart
12+ (gallons) - $54.25 /gallon Add to Cart
60+ (gallons) - $50.25 /gallon Add to Cart
---
above prices are subject to change
---
More Situational Supplements
---
All of our situational supplements are designed to work quickly and safely; many are U.S. Patented. We use only USP Grade and amino acid chelated minerals. Micro-encapsulated probiotics ensure good digestion and fortify the immune system. We do not use fillers or binders, and all of our formulas contain 100% active ingredients.
(swipe left & right)