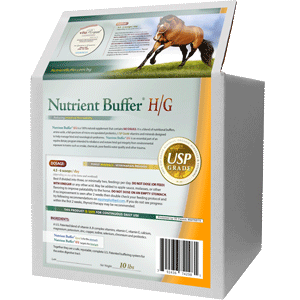 10 lbs. (box) - $200.25 Add to Cart
25 lbs. (box) - $468.75 Add to Cart
45 lbs. (box or moisture resistant bucket) - $814.50 Add to Cart
Guaranteed Analysis
per Scoop (28 g)

| | |
| --- | --- |
| | |
| Calcium (Ca) | 3,333 mg |
| Magnesium (Mg) | 3,735 mg |
| Vitamin C | 665 mg |
| Vitamin E (water soluble) | 200 IU |
| B-Complex Vitamins | 265 mg |
NutrientBuffer.com has all the most extensive information on this product.
---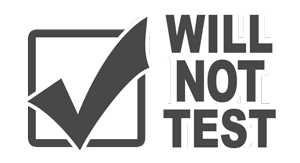 Aids in Healing
Hind Gut Ulcers

in Horses

Nutrient Buffer® H/G is a 100% natural nutritional equine supplement, which contains NO DRUGS. It's a blend of nutritional buffers, a full spectrum of micro-encapsulated probiotics, USP Grade vitamins and minerals, including organic forms of minerals designed to address hind gut ulcers, and help manage EPM as well as other neurological syndromes. Nutrient Buffer® H/G is an essential part of an equine dietary program intended to re-balance, and restore, hind gut integrity after environmental exposure(s) to toxins such as smoke, chemicals, poor feed and water quality or trauma.
Intestinal Permeability & Leaky Gut Syndrome
Horses with a history of upper gastric (stomach) ulcers have a much higher chance of developing an intestinal ulcer soon after. Excess acid travels from the stomach down into the gut, and can degrade the protective mucous membrane which lines the intestinal tract. Without that protection, the acidity of fecal matter constantly rubbing directly on the flesh of the intestinal walls can cause hind gut ulcers, Leaky Gut Syndrome, serious nutritional deficiencies and increase susceptibility to opportunistic infections which cause neurological hind end weakness - such as EPM.
If hind gut health is neglected, the trillions of protozoa and other parasites from the gut can slip through the intestinal walls into the body cavity, and blood stream, of the horse - where they can cause neurological syndromes and other chronic opportunistic infections which can bog the immune system down dramatically.
DOSAGE:
3 - 6 scoops / day
(depending on size of the horse and workload)
Best if divided into three, or minimally two, feedings per day. DO NOT DOSE (OR FEED) WITH VINEGAR or any other acid. May be added to apple sauce, molasses, or other flavoring to improve palatability to the horse. DO NOT DOSE ON AN EMPTY STOMACH. If no improvement is seen after 2 weeks then double check your feeding protocol to be sure it is congruent with recommendations at equineplusfeed.com. If basal temperature doesn't rise to 99.6• or above, in the first 2 weeks, thyroid therapy may be recommended - as healthy body temperature is necessary for resistance to opportunistic infections.
The Truth About Contamination in Equine Nutritionals
The above video shows two different samples of magnesium oxide under magnification. USP Grade (bottom-right) vs. Feed Grade (top-left). The only cause for the brown coloration is impurities including heavy metals - the pure stuff is white. The same goes for Feed Grade salt blocks. Only buy the white ones!
Ingredients:
A U.S. Patented proprietary formula of amino acids, B-complex vitamins (thiamine HCL USP, riboflavin USP, niacinamide USP, calcium pantothenate USP, pyridoxine HCL USP, folic acid USP, B-12 USP), water soluble vitamin A, buffered vitamin C, water soluble vitamin E, chelated potassium, magnesium, calcium, zinc, copper, our organic iodine, chromium, selenium and our micro-encapsulated probiotics cultures (lactobacillus acidophilus, lactobacillus casei, bifidobacterium thermophilum and enteroccocus faecium).
Nutrient Buffer® liquid is for the stomach.
Nutrient Buffer® H/G targets the hind gut.
Together they make a safe, reputable, U.S. Patented complete buffering system for the entire equine digestive tract.
Suggested Retail:
10 lbs. (box) - $200.25 Add to Cart
25 lbs. (box) - $468.75 Add to Cart
45 lbs. (box or moisture resistant bucket) - $814.50 Add to Cart
---
above prices are subject to change
---
More Situational Supplements
---
All of our situational supplements are designed to work quickly and safely; many are U.S. Patented. We use only USP Grade and amino acid chelated minerals. Micro-encapsulated probiotics ensure good digestion and fortify the immune system. We do not use fillers or binders, and all of our formulas contain 100% active ingredients.
(swipe left & right)