For decades, this has been the very best dosing gun for horses on the market. It's virtually indestructible and spill-proof.
---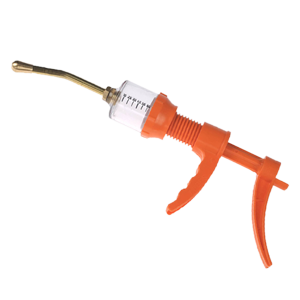 Dosing Gun
This pistol grip 60 cc dosing gun provides the easiest and most economical way to dose horses with liquid supplements or wormer. It has a thick plastic frame with a stainless steel nozzle that angles along the cheek and then back behind the teeth and squirts the liquid near the back of the tongue - ensuring that the horse swallows everything and you never spill a drop. This gun is nearly indestructible, and you can avoid common problems with tubes and syringes that drip more on the ground than anything.
Dosage levels are etched on the barrel of this gun in 10 cc increments. To fill chamber: depress the handle/trigger, insert probe into liquid, and then release the handle. Squeeze the trigger to administer the dose.
It's the perfect companion product for dosing almost all of our supplements.
Suggested Retail:
1 60 cc dose gun - $31.75 Add to Cart

---
above price is subject to change
---
More Situational Supplements
---
All of our situational supplements are designed to work quickly and safely; many are U.S. Patented. We use only USP Grade and amino acid chelated minerals. Micro-encapsulated probiotics ensure good digestion and fortify the immune system. We do not use fillers or binders, and all of our formulas contain 100% active ingredients.
(swipe left & right)