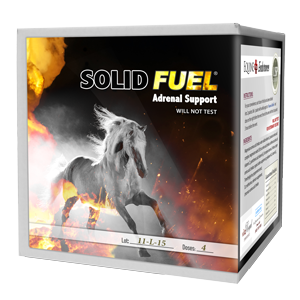 For Horses Who Can't Finish
---
Sometimes, horses with weak adrenal glands are unable to finish an event as strong as they should.
SolidFuel® provides additional specific nutrients needed for peak adrenal function.
TIP: Offering free choice human grade salt or sea salt is important, as the adrenals need higher levels of salt than the rest of the body does.
AVOID: the brown colored manufactured commercial TM/Trace Mineral salt as that is not properly balanced for compromised horses, and contains too much inorganic iron known to compromise the liver.
Symptoms of Adrenal Fatigue Can Include:
Slow recovery after exercise, excessive and chronic muscle soreness.
Early onset fatigue or chronic low energy, may appear to be lazy or depressed
Allergies of all kinds, hives, runny eyes, runny nose, sometimes excessive gas production, heaves
Lack of attention span, irritability, doesn't want to be "messed with", grumpy
May consume excessive amounts of salt
If the horse is indicating low body temperatures, you can add Organic Iodine™ to increase basal metabolism.

We can also do a hair analysis to see if there are toxicities which might be compromising metabolism. If necessary, our Biochemist can formulate a custom supplement for any specific horse.

Consider non-legume sources of protein, such as Equine Plus® Feed, containing predigested amino acid chelated minerals, live probiotics cultures, USP Grade vitamins, water solubilized vitamins A, D and E, and essential fatty acids.

Horses with adrenal fatigue need all the nutritional help they can get. SolidFuel®, especially when combined with Equine Plus® Feed can help horses with compromised adrenals finish strong again.
Instructions:
Each dose is pre-divided into 2 packets. Mix 1 packet with vanilla yogurt or Nutrient Buffer® and dose the night before the event. Then, with the 2nd packet, do the same - 3 hours before the event.
The Truth About Contamination in Equine Nutritionals
The above video shows two different samples of magnesium oxide under magnification. USP Grade (bottom-right) vs. Feed Grade (top-left). The only cause for the brown coloration is impurities including heavy metals - the pure stuff is white. The same goes for Feed Grade salt blocks. Only buy the white ones!
Ingredients:
Magnesium amino acid chelate, water soluble vitamin E, potassium amino acid complex, magnesium oxide USP, zinc amino acid chelate, micro-encapsulated ascorbic acid (vitamin C), B-complex vitamins (thiamine HCL USP, riboflavin USP, niacinamide USP, calcium pantothenate USP, pyridoxine HCL USP, folic acid USP, B-12 USP), D-ribose, copper amino acid chelate, organic iodine supplement, trimethylglycine, peppermint extract, DL methionine, selenium amino acid chelate, and chromium amino acid chelate.
Suggested Retail:
1 (full dose) - $18.00 Add to Cart
+12 (doses) - $16.00 (each) Add to Cart


---
above prices are subject to change
---
Product Menu
---
(swipe left & right)