For decades, this has been the very best dosing gun for horses on the market. It's virtually indestructible and spill-proof.
---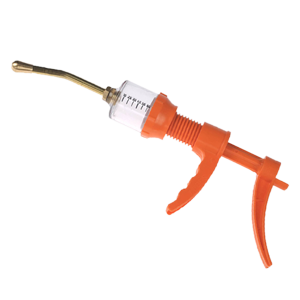 Dosing Gun
This pistol grip 60 cc dosing gun offers the easiest, safest and most economical way to orally dose horses with liquid supplements, wormers and medications.
The thick plastic frame has a brass nozzle that angles along your horse's inside cheek and behind the back teeth, in order to deliver the ingredients near the back of the tongue. This ensures that your horse safely swallows everything, without spilling a drop.
This dose gun is nearly indestructible, and you can avoid common problems with dangerous stomach tubes or syringes that drip more on the ground than what goes into the horse.
Dosage levels are etched in 10 cc increments on the durable clear barrel of this dosing gun.
Instructions:
Squeeze the spring-loaded trigger
Insert probe nozzle into ingredients
Release trigger until dosage fills the chamber
Angle nozzle properly into your horse's mouth (see above)
Squeeze/pull the trigger to administer the dose
Cleaning:
Do not take the dosing gun apart
Insert probe nozzle into clean water
Release trigger until water fills the chamber
Squirt the water out onto the ground
Repeat as needed
Suck enough oil into the gun to coat the rubber seal before storing away
For best results and for product longevity, clean dosing gun after each administration and lubricate rubber seal with any kind of food grade oil.
Suggested Retail:
1 60 cc dose gun - $37.50 Add to Cart

---
above price is subject to change
---
More Situational Supplements
---
All of our situational supplements are designed to work quickly and safely; many are U.S. Patented. We use only USP Grade and amino acid chelated minerals. Micro-encapsulated probiotics ensure good digestion and fortify the immune system. We do not use fillers or binders, and all of our formulas contain 100% active ingredients.
(swipe left & right)