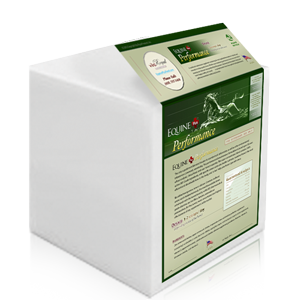 Vitamin, mineral, probiotic supplement for maintenance of adult performance horses.
---
Equine Plus
®

Performance

A vitamin, mineral, probiotic supplement which can be top dressed onto common commercial feeds to boost nutrition. It contains ratios that help compensate for common imbalances in most forages and commercial feeds, such as high iron, calcium and manganese.

No added manganese, iron or calcium. Equine Plus® contains buffered amino acid chelated minerals, the most bioavailable forms of minerals with the lowest toxicity; with USP pharmaceutical grade vitamins; and no fillers, binders, extenders or preservatives, for the purest, most concentrated and highest effectiveness of any supplement on the market.

When a horse feed is pelletized or extruded, it's heated and pressurized enough to kill most/all the probiotics represented on the label as well as degrade the B vitamins. If you're feeding your horse a pelletized or extruded feed, you will want to supplement your feed with more/better vitamins, minerals and probiotics. The products below are mainentance supplements for top dressing onto, or dosing in addition to, pelletized and extruded feeds. Sweet feeds are also known to be deficient of adequate vitamins and minerals to compensate for soil deffiniencies in today's world. Hay only diets are also known to be deficient of vitamins and minerals. Equine Plus® maintenance supplements can help close these nutritional gaps.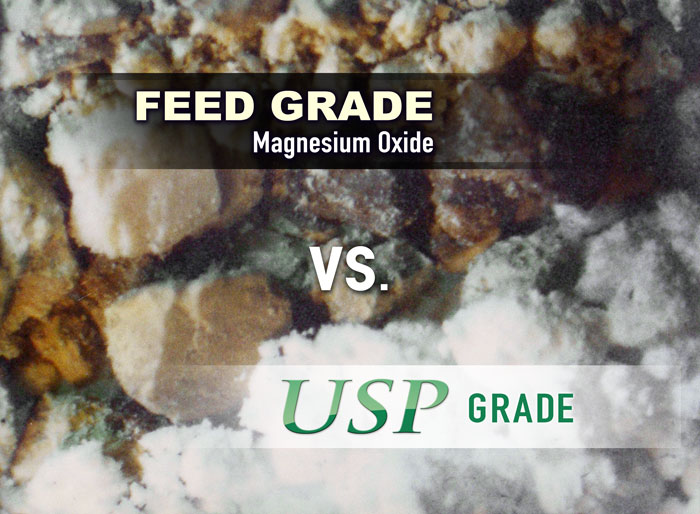 This image shows two samples of magnesium oxide at 4x magnification. USP Grade (bottom-right) vs. Feed Grade (top-left). The only cause for the brown coloration is impurity - the pure stuff is white.
Suggested Retail:
1 lb. (box) - $51.25 Add to Cart
3 lbs. (box) - $135.00 Add to Cart
12 lbs. (box) - $437.50 Add to Cart
25 lbs. (box or moisture resistent bucket) - $662.25 Add to Cart
---
above price is subject to change
---