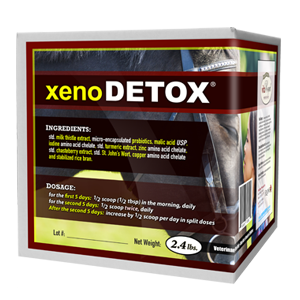 2.4 lbs. (box) - $64.75 Add to Cart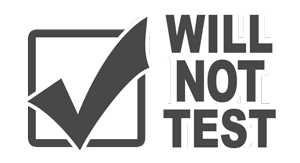 Herbal, mineral, l-malic acid and probiotic combination known to aid in detox and restoration of normal biochemistry.
---
Liver & Kidney Health Supplement
for Horses & Dogs
XenoDETOX® helps clear toxic heavy metals, drug treatments, herbicides, pesticides and other envronmental chemical buildups from the body. Enhance the liver and kidneys natural ability to function using well-recognized pure human grade standardized herbs.
Helping organs eliminate xenoestrogens (and other toxins which are known to interfere with thyroid pathways) can be cricital to restoring thyroid function. Both free T4 and free T3 generally elevate after using this product for 1 to 2 months. It can also be helpful to add an essiac formula tea. Use the two, together, for hypothyroid horses and dogs, especially in autoimmune cases.
Standardized Herbs (std.): herbal extracts which have active ingredients present in a guaranteed amounts - the purest legal category for herbs intended for human consumption in the United States.
Includes Chelated Minerals: helps allow for better and safer detox function.
Includes L-Malic Acid: helps release and eliminate both fatty deposits in the liver and heavy metals — and helps prevent calcium from forming depsoits in the kidneys.
Includes Micro-Encapsulated Probiotics: to enhance digestion, absorbtiion and function of herbal extracts.
Great for
Moody Mares
Aids in regulating hormone cycles.
Dosage:
First 5 days: 1/2 scoop (1/2 tbsp) in the morning, daily
Second 5 days: 1/2 scoop twice, daily
After the second 5 days: increase by 1/2 scoop per day in split doses
- Can be used daily for one or two months, then several times weekly for maintenance. For mares, use daily for up to 3 weeks with 1-2 weeks off.
- Best use when outdoor temperatures are above 60ºF.

Ingredients:
Standardized 4:1 milk thistle extract, micro-encapsulated probiotics, L-malic acid USP, iodine amino acid chelate, standardized 4:1 turmeric extract, zinc amino acid chelate, standardized 4:1 chasteberry extract, standardized 4:1 St. John's Wort, copper amino acid chelate and stabilized rice bran.
Suggested Retail:
2.4 lbs. (box) - $64.75 Add to Cart
---
above price is subject to change
---